By Philip Sparks,
This practice-based research by Seneca Fashion faculty member Philip Sparks examines how the technical fit of a garment can affect an individual's ability to fit in. It challenges the tool box used by practitioners working with anthropometric data (the surface measurements of the human body) and has produced new methods that are less reliant on published averages. Some of the questions Professor Sparks explores through his praxial/theoretical methodology are: how does anthropometric data and the study of human anatomy influence notions of an ideal body? In what ways do anthropometric data and patternmaking principles include or exclude diverse body types? And what tools can be developed to assist designing for diverse bodies? By exploring experimental methods in cut, this research challenges the meaning of a key example of conservatism and uniformity in tailoring, the grey flannel suit, and reflects on the question, what is good fit?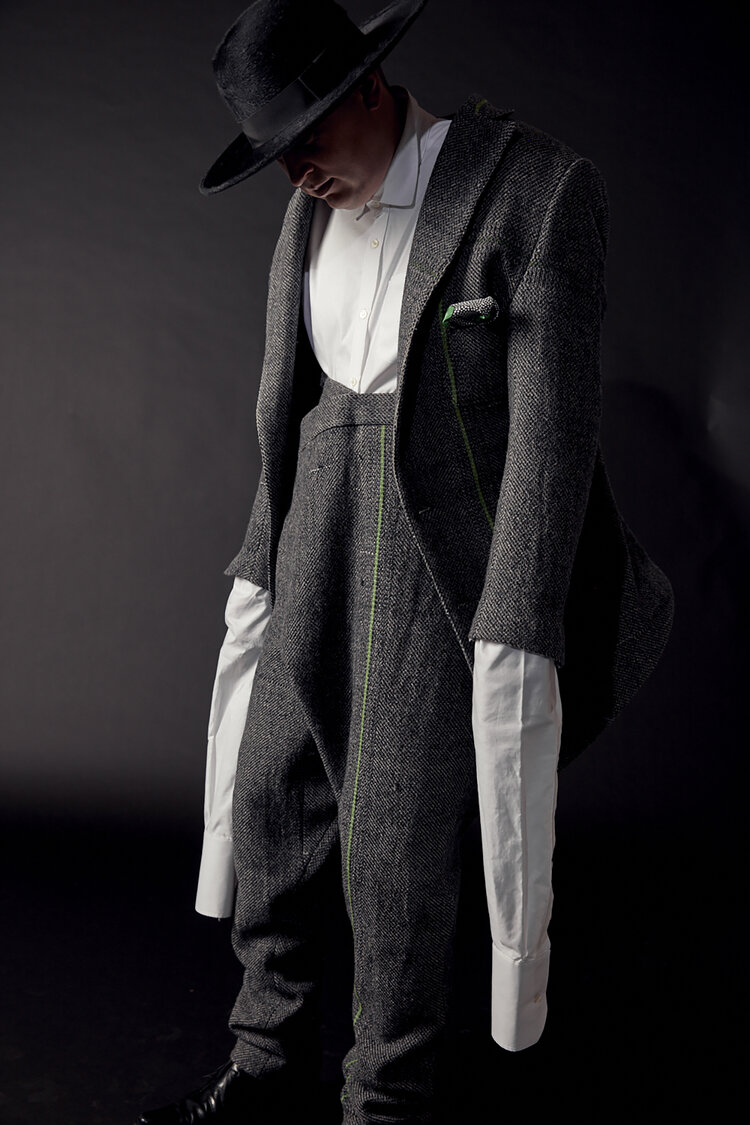 The wearer imparts meaning to clothing. These images, created in collaboration with photographer Carlyle Routh and makeup artist/hair stylist Robert Weir, highlight the struggle of trying to move the body to fit in to a full ensemble that was made not to fit. Philip Sparks, Carlyle Routh, and Robert Weir. Photographs of A Suit Made Not to Fit. 2019. Toronto.
A Suit Made Not to Fit features many subtle details that create the experience of not fitting in. The stand that the suit is displayed on is made from a mould of the designer's body to exhibit the garments in a way that emphasizes a personal experience of fit. Philip Sparks. Missed Fit (Installation Shot: 2104 Dundas Street West). A Suit Made Not to Fit. 2019. Toronto. Photo: Kristy Boyce.
Fig. 5, Philip Sparks. Pattern Piece for A Study in Vertical Balance – Passing up the Back. 2018. Toronto.
From the article: Sparks, Philip. "Missed Fit" Fashion Studies Journal Volume 3 Issue 1 Article 4. 2020.
https://www.fashionstudies.ca/missed-fit
& the MRP: Sparks, Philip. "Missed Fit." OCAD University, 2019.
Professor Sparks describes his business as a bespoke tailor here:
Missed Fit
Philip Sparks, 2019
"An individual's reaction to trying on a garment is rarely what you expect." (Philip Sparks 2019)
As another aspect of his research, professor Sparks has also created a series of dress shirts that have been designed specifically with non-traditional fits, shapes and proportions. These were fabricated so that various random observers could try on the unusual garments. Creating a performative art project that involves not only the art public viewing the work a sculptural installation, they also interact with it; and eventually physically embody it, as they fit their own disparate body shapes into these unusual formal shirts. Through performative engagements, the audience becomes a living part of the sculpture, changing the silhouettes of the garments, personalizing them through their own adoption and wearing of the pieces.
Documentation of the performance at Seneca Newnham Campus, Nov. 25th 2022. Photography Rose de Paulsen, photo-imaging Dr. Mark Joseph O'Connell. Special thank you to the Fashion Studies class of Fall 2022.
Professor Sparks describes the shirt/sculptures as follows:
75%
75% was a shirt made 25 per cent smaller, which produced a significant difference in the size of the finished piece. 75% was made from a four-way stretch fabric so that those who tried it on could have the experience of trying something on that was too small. Of course, I had two guests that fit the shirt quite well, received a hug and words of gratitude for producing something that fit someone who normally has issues with clothing being too large, usually left wearing children's clothing. Some of the pieces looked at restricting movement as an issue with fit.
Abduction
Abduction, meaning "moving away"(Marieb 2011, 214), is a shirt made with the arms attached too low. Abduction is designed to prevent the wearer from lifting their arm away from body. Many new end uses, such as capes, were referenced as guests tried on this piece.
Upside Down
Upside Down was a shirt with the sleeves set upside down, again with the intention of restricting movement of the arms, but this time leaving the participant unable to comfortably put their arms down by their sides. Abdomen and Neck are both shirts where one part of the shirt was enlarged.
Abdomen
In Abdomen, a front section of the shirt was enlarged by 200 per cent and gathered back into an otherwise regular white shirt. This was a play on enlarging a part of the body that I am usually conscious of minimizing. Abdomen presented several ways of being worn. Many people suggested that it could be worn when carrying a child. I myself tried to wear an oversized pair of trousers and Abdomen for a day and concluded that I was too afraid I might just get comfortable and let myself grow into them.

Neck
Neck was made with a neck opening too big, exposing most of the chest abdomen and navel. It was meant to question the concept of appropriateness in clothing, but most guests simply appropriated the shirt and thought of it as a new type of jacket instead.
Watching the audience try on these pieces over seven days illustrated how body proportions and personal identity overlap in the experience of fit. As a tailor, it's important to set aside my own expectations of how someone else will respond to the fit of a piece of clothing. An individual's reaction to trying on a garment is rarely what you expect.